A call to all foresters, First Nations, forestland owners and home builders…
By understanding and developing new economic incentives, we can remove fire fuel loads and turn them into meaningful products, steward forests for genetic diversity and fire-resilience, mitigate CO2 gas emissions and create meaningful full-time jobs in rural communities, while providing profitable opportunities for those communities and partners.
The focal strategy of FRG for improving ecosystems and resiliency in the western region is collaborating with First Nations, land-owners, and local and state agencies in the utilization and promotion of small diameter trees thinned from overburdened forestlands, providing land stewardship services and assistance, value added timber frame homes, and renewed local economic activity.
FRG promotes the utilization of materials thinned ONLY from forest restoration and improvement projects.
Crowded even-age trees on millions of acres of forestland—a result of clear-cut forest management—have increased the certainty of catastrophic wild fires throughout California. Very fast growing Douglas fir crowds out the slower growing hardwoods compromising species diversification and stable forest structure. In the untended even-aged forest all flora is in deep competition for ground water, soil nutrients and space, suppressing tree growth, increasing the risk of insect and disease infestation, and compromising genetic diversity. Dense shrubs, young, dead and suppressed trees, called ladder fuels, allow fire to climb the healthier trees and burn into the canopy, taking down entire forests.
FRG's stewardship standards are based in holistic approaches to restoration forestry for improving structure and genetic diversity, regaining canopy integrity, watershed stability and fire resiliency of forestland.
Every micro-ecosystem has a unique prescription. Below is a basic outline of stewardship methods used for restored forest ecosystems.
Removing Ladder Fuels: Small diameter tree thinning
Selective small diameter tree thinning allows healthier trees to take in more water, nutrients and sunlight also allowing for slower growing hardwood and other species to take hold. Removing over crowded Doug fir, in some cases redwood, and understory ladder fuels reduces the fire fuel load and can be a preparation for prescribed burns.
Controlled burns intentionally set burn away excess vegetation to mimic the impact of historic ground fires and keep the forest from becoming overgrown. Many California species depend upon fire for reproduction. The giant sequoia for example has serotinous cones whose seeds are encased in thick resins that need fire to melt those resins so that germination can occur. Other species that depend upon fire and the nutrient rich ash left behind from ground fires are the fire poppy, redbud and manzanita. Historic ground fires, traditional indigenous and prescribed burns increase species diversification in flora, bringing back the fauna that depend upon those fire dependent plant species.
Watershed restoration / Infiltration
The litter and duff layers over the forest's mineral soil consist of decaying organic matter. These layers hold much of the water available to the ecosystem long after the rainy season and even into drought years. A portion of thinned materials can be mulched, and strategically placed tree trunks and large branches within the landscape increase water retention and reduce soil erosion.
Incentivize local forest improvement projects by creating a market for thinned trees.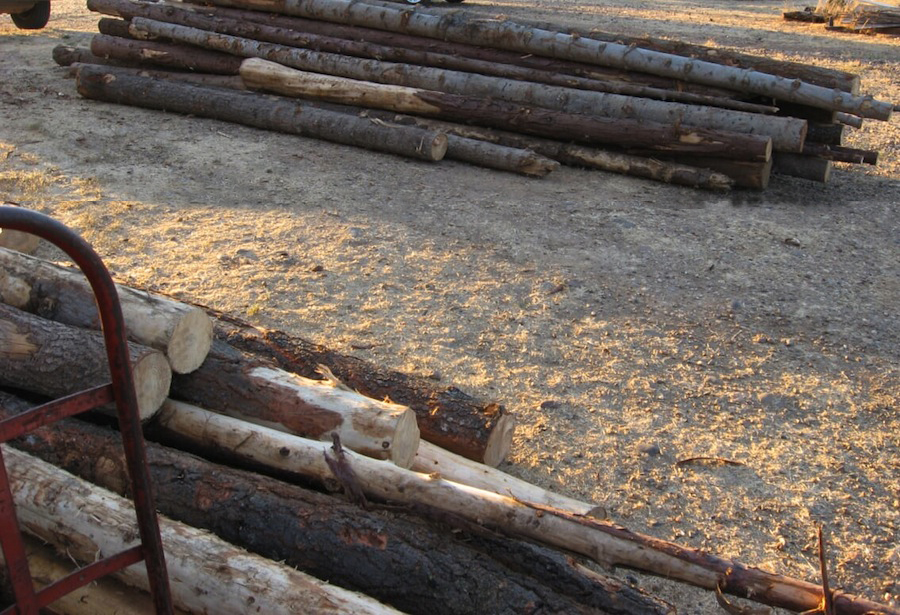 Small Diameter Pole Utilization
Sustainably Revitalizing A Local Industry Through Forest Restoration
Traditional Uses & Emerging Markets
Small poles have been used as the framework for housing and shelter for millennia in forested areas around the world. In the early years of California's milled lumber sourced from old growth trees, the growth rings were compact and many providing superior strength and structure.
The quality of lumber found in retail stores is compromised in the wake of clear-cut forestry and as a result of logging fast growing trees with looser growth rings. It's thought that an abundance of that high quality wood is a thing of the past. But the small suppressed-growth trees thinned from forest improvement projects are tight-ringed and fibers run the length of the timber, mimicking the structural integrity of old growth redwood.
Working with round wood offers a reduced need for dimensional milling.
Round pole timber frames are compatible with fire-resistant cob and other earthen infill and clay plasters in compliance with CalFire's Wildland Urban Interface building standards. Combine this with the fact that these materials are an abundant byproduct of restorative forestry management makes for a smart, fire resilient, locally sourced and sustainable alternative to dimensional lumber.
The solution to reducing catastrophic fire fuel loads economically lies in the need for high quality building materials for fire safe housing.
With more restoration projects implemented and a growing demand for ethically sourced materials, timber frame structures and fire resistant homes, local jobs will be created in forestry, transport, pole processing, small pole home design, engineering, innovation and the trades.
FRG has been a conduit of funding for the engineering of an affordable and efficient "saltbox" round pole timber frame design, developed by FRG members Colin and Eric of Polecraft Solutions, who have years of experience working with round wood for timber framing and developing natural building techniques. This saltbox design, made with small diameter trees sourced from forest improvement projects, is now available to the public as a home framing kit, with minimal site specific cost additions. An affordable framework for housing enclosed with natural composite infills and coated in earthen plaster, these homes are wildfire resistant and extremely energy efficient.
The most efficient, sustainable and intelligent solution for today's housing needs is the use of small diameter poles that are selectively thinned to restore local forestlands to fire resilience and health. Small poles are abundant and going to waste in most cases. When understood as a valued byproduct of restorative forestry management and fire mitigation, this viable and superior building material can change the way we think about housing and our relationship with the land we depend upon for materials and well being.
With creative adaptability, round pole timber frame homes are constructed using peeled log posts while applying traditional and innovative joinery and infill techniques. The live-edge, prefabricated small diameter poles quickly assemble into beautiful sturdy superstructures for home and utility. Compatible with cob, plastered straw bale, wood chip clay, and other natural fire resistant composite infill, then coated in earthen plaster.
Buildings made from small pole timber frames, enclosed with natural composite infills and coated in earthen plaster are wildfire resistant and extremely energy efficient.
Connections are secured using interlocking wood joints, such as the mortise and tenon joint, hardwood dowels, and angled shear bracing.
The smooth and sturdy round pole framework is left exposed to the interior of the building, embracing occupants with a sense of security and well being.
Assembled frames are surrounded by earthen walls, or walls coated with thick, fire resistant natural plaster that also serves to shield the structure from the elements.
Earthen materials are typically used on the ground floor, with pumice thermal breaks below and at the edges. Radiant floor tubing or hypocaust systems can be built into these earthen floors for heating or cooling.
The roof—being the most vulnerable to wildfire destruction—is applied with clay and concrete tile which are the most fire resistant. Other materials used for roofing include epoxy-coated steel shingles and metal roofing.
CONTCT Polecraft Solutions for more information.
Big solutions with scalable offerings